Sasha's Heading to the Special Olympics USA Games!!
Sasha is a bright, ebullient 16-year-old. She was referred to Tichenor Clinic when her doctors saw that she could benefit from treatment for hemiplegia, a type of Cerebral Palsy resulting in stiffness and weakness of half the body, as well as speech and social communication delays. She was eager to participate in our physical therapy fitness program, speech-language therapy, occupational therapy, and the Rich Kempster Swim Program (RKSP). It was in the pool that Sasha found her passion. There, she discovered mobility, speed, and ease in a way she hadn't experienced on land. After completing RKSP, she moved on to join the Special Olympics organization as a new athlete in both swimming and softball!
Her mother Yeshika shares: "It's thanks to Tichenor that Sasha became an excellent swimmer. We are so grateful for all your support!"
Please join us in celebrating Sasha's accomplishments and watch this space next summer as we update you on Sasha's trip to Orlando, FL for the 2022 Special Olympics USA Games!!!
A Magical Evening Celebrating Lori

On a beautiful October evening at Rancho Los Alamitos, we celebrated Lori DeLaney's 27 years as Executive Director of Tichenor Clinic for Children. We are grateful to the entire staff at the Rancho, Teak Catering, event sponsor Windes Inc., Councilman Daryl Supernaw for presenting commendations, our Master of Ceremonies Rich Archbold, and all who attended and made this evening supremely special.
Click to read Rich Archbold's article on Lori, Shirley Wild's column coverage (second article down), and a beautiful 95th anniversary and Lori tribute video by Digital Revolution.
The next evening, we celebrated again at the clinic, where former patients – now teens! – gave speeches and guests were treated to dinner by Stacked.
Thank you, Lori! We hope you are enjoying the first month of your retirement!
One afternoon in August 1945, children were swimming at The Plunge, a public pool in downtown Long Beach, when two of those children suddenly became very sick and were rushed by ambulance to the hospital.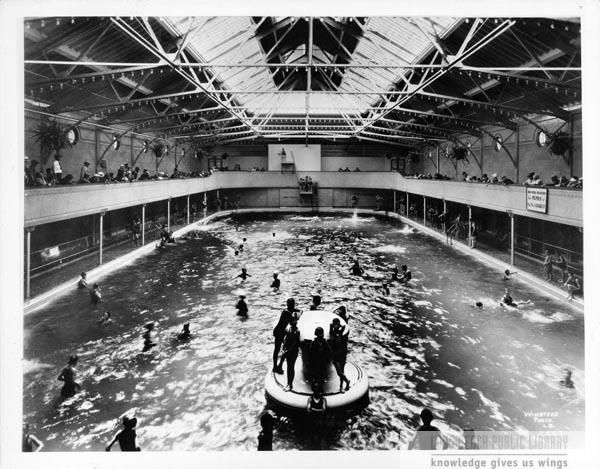 One of those children was a 10-year-old boy named Dick who fell unconscious for a week with a fever surpassing 106. As the city came under strict quarantine and infantile paralysis – now known as polio – began to spread, doctors determined that the children would not survive. One tragically did not, but Dick came back to consciousness, alive and paralyzed.
For over 8 months, Dick came to Tichenor Clinic five days a week for aquatic therapy and eventually, with incredibly hard work by him and encouragement from our therapists, he walked again. He played high school basketball at St. Anthony, became a dentist, married the love of his life, Barbara, and raised five children.
Last Saturday, those five children and some of their children visited us at the clinic!
We showed them the original registration book with the entry of his name and toured the pool where the intensive therapy happened.
It was such a pleasure to welcome the McBride family to Tichenor Clinic for Children!
Every day, we work toward our mission to provide access to therapy that can change families' lives. Thank you for this special visit that brought that mission to life!
MemorialCare Community Benefit Grant
In funding news, we are thrilled to have been selected as one of three recipients of the 2021 MemorialCare Community Benefit Grant! Thank you, MemorialCare!
Long Beach Rotary Charitable Foundation Literacy Grant
I'm Ready!™ guidebooks have arrived! (English only for now)

Studies have shown that children who start school with higher levels of early literacy skills have greater academic success. Based on the latest research in early literacy development, I'm Ready! shows parents simple, easy-to-use strategies for turning any daily routine or activity into an opportunity to build your child's early literacy skills and prepare them for success in school.
Thank you to Long Beach Rotary Charitable Foundation for funding 30 books for families as part of our Literacy Grant!
Tichenor Fact of the Month

Since the opening of Tichenor Clinic for Children in 1926,
over 32,740 children have received therapy in over 677,000 visits!
ICYMI (In Case You Missed It)! News Roundup
Upcoming Events! Turkey Giveaway, Adopt a Family, Holiday Drive-Thru
Save the Dates! More Details to Come!
Saturday, November 20: Turkey Giveaway
Starting Wednesday, December 1: Adopt-a-Family & Holiday Toy Drive
Saturday, December 18: Annual Holiday Party (Drive-Thru)
Please note the clinic will be closed from Monday, December 20 through Friday, December 31.
Our Contact Information
Tichenor Orthopedic Clinic for Children
1660 Termino Ave.
Long Beach, CA 90804-2103
(562) 597-3696
https://tichenorclinic.org